Prolife Announcement: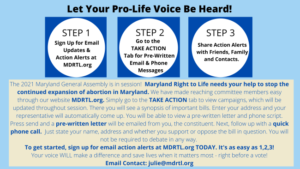 A Letter From John Miller:
I'm sometimes asked what are the needs for those who support Moms and Dads with newborn babies that can't afford their babies needs. Here's the 2 local groups that always need help and both do a great job. Both groups can always use donations as well. If you're out of state, look for your group.
Diapers sizes 4,5, & 6
Wipes, & plastic baby tubs
BIRTHRIGHT needs…250 W Patrick St, Frederick, MD 21701 (301) 663-0111
Newborn girl sleepers, outfits and onsies
Newborn white long and short sleeved onsies
Infant sweathers/sweatshirts
Winter coats-all sizes up to size 2
Socks up to one year
Bobs large and small
Diapers sizes newborns, 4 & 5
Car seat, bunting bags for infants
Baby wipes
Comb and brush sets
Baby lotion & wash
Girl sized 12-18 month clothing
God Bless,
John
John Miller
President, Frederick County Right to Life
240-446-8624,