Welcome to the St. Ignatius of Loyola Website
Our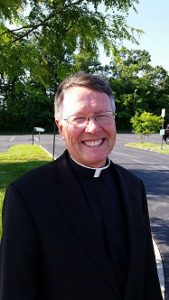 parish is a growing, friendly and vibrant community.  On this website you will find up to date information about our parish and its rich variety of liturgies, prayer opportunities, programs and ministries bless, renew and strengthen persons of all ages.  The parishioners and members of the Parish Staff and I look forward to meeting you personally.
In Christ,
Fr. Mike
~A NOTE FROM OUR PASTOR~ January 2019
The Christmas season comes to a close this Sunday with the celebration of the Baptism of the Lord.  Thanks goes out to the many parishioners and our parish staff members who helped us all in so many ways to celebrate the Birth of Jesus:
Joyce Seng, Suzanne Fink, Bob Fink, Rob Fink, and the many men and women who helped to decorate our church and our campus so beautifully;
Our staff member and lifelong parishioner, Jessica Temple, for decorating Polk Hall so beautifully;
Rich and Mary Lou Terselic, the members of the Jeffers Family, and the many parishioners who helped to  beautifully decorate our 1876 Country Church in Urbana;
The Extraordinary Ministers of the Eucharist, Lectors, Altar Servers, Greeters, and Ushers who served throughout this Christmas season and welcomed all who joined us in worship on Christmas Eve and on Christmas Day;
Jessica Temple and Carol Smith for bringing out of storage the costumes for the Nativity and their working with Deacon Larry and Fran Werden at the two practices held with the children before Christmas;
The children of the parish who attended the two practices before the Nativity reenactment at the 4:00 PM Children's Mass, the children who served as Lectors, Greeters, Shepherds, Angels, Caesar Augustus, the Roman Centurion, Mary, and Joseph and for our young parishioner, Beau Temple, who took the part of the baby Jesus;
Our choirs, including our bell choir, the cantors, and musicians for leading us in joyful song;
Michael Giangrasso, who directed our Young Catholics Choir, and all the young people of the choir for leading the singing of the 4:00 PM Christmas Children's Liturgy in the church;
Ella Saulsbury, for leading the song, "The Little Drummer Boy" at the 4:00 PM Mass;
Zack Stachowski for directing our Music Ministry Program and Meg Baumgarten who compiled all the music for our singers, bell ringers, and musicians;
Norman Endlich, who served as accompanist, and Helen Percy for cantoring at the 4:00 PM Christmas Eve Mass in Polk Hall;
Mark Jeffers, J.R. Davis, Greg Davis, Trey Davis and all the parishioners, including my brother Knights of Columbus, who volunteered to help direct the parking of vehicles on Christmas Eve;
Ken and Hazel Greene from whose farm came the two beautiful trees in the upper sanctuary of our church;
Mike and Lisa Gaver, of Gaver Farm, who delivered the two beautiful trees which decorated Polk Hall;
Larry Donahoo for celebrating the 4:00 PM Christmas Eve Mass in Polk Hall;
Juan Molina, who celebrated the 6:00 PM and 8:00 PM Masses on Christmas Eve;
The generosity of parishioners who gave monies for the purchase of the beautiful poinsettias which decorated our two churches and Polk Hall;
Our parish's three deacons and all of the members of our parish staff for their great help behind the scenes!
Lastly, I want to express thanks for the baked goods, cards, and gifts which the parish staff members and I received at Christmas.  I also thank you for the treats and gift cards given to my cat, Suzie.  Please keep our parish staff and me in your daily prayers as we pray for you.
We have just finished the first year of our five-year AMDG (Ad Majorem Dei Gloriam) Building Campaign to build our new church.  Our goal is to raise $3.3 million in cash so that we can break ground on the project.  It has been a great first year for our campaign!  As of December 31, 2018, we have received $896,330 in cash for our AMDG Campaign!  In addition, our parish received rebates of $198,208 from our participation in the five-year Embracing Our Mission Campaign (EOM).  After adding these two numbers, a total of $1,094,538 is in our AMDG Building Fund.    We received several pledges from parishioners in December 2018. I thank all who have made a pledge or contribution to our campaign. The second collection on the second Sunday of each month is for our AMDG Campaign.
An updated statement of pledge contributions was mailed this week to all parishioners who have made a pledge to our AMDG Campaign.
A parishioner who attended the 10:00 AM Sunday Mass last Sunday sent me an email. After Mass, a fellow parishioner asked him whether the parish could build additional parking spaces now, before we start building our new church.  This is a good question and I thank the parishioner for his email.  The main issue discussed at our December 14, 2018 meeting with our architect and our engineers was the subject of the location(s) of our new active and reserve septic fields.  We rely on well water and the use of septic fields here on our Ijamsville campus and will for years to come. Our engineers are presently working on locating these fields and securing approval for the necessary permits from Frederick County Government.  I hope to have more information to share with you on this by the end of this Spring, 2019.
Returning to the inquiry regarding the building of additional parking spaces, before we can look at parking, we have to come to a conclusion as to the location of our active and reserve septic fields.  We do not want to be in the situation of tearing up new parking spaces. Just a reminder-if you park your vehicle on the field, you can cut through the unlocked doors in Polk Hall on your way to church.
Our parish community is blessed by the many parishioners who give so generously of their talents and the time throughout the year.  In appreciation of all of our parish volunteers, there will be Reception for Volunteers on Friday, February 8th, at the Urbana Volunteer Firehouse.  Invitations will be mailed out shortly.
Our Parishioner Charles Kretz formally became an Eagle Scout, Scouting's highest honor, at an Eagle Scout Court of Honor Ceremony held here at St. Ignatius on Sunday, December 30, 2018.  (See the picture in this bulletin).  Charles joins his brothers Eric and Henry as Eagle Scouts.
Congratulations Charles!
Have you retired or semi-retired recently, or moved into our community recently?  Do you know that we have a Senior's Group which meets in Polk Hall once a month for a pot-luck luncheon and a presentation on an interesting topic?  Our Seniors meet this Monday, January 14th at 12 Noon in Polk Hall.
Blessings,
Fr. Mike