Middle School Youth Group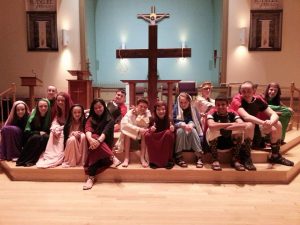 Greetings to our 6th, 7th, and 8th graders! Here at St. Ignatius, we offer monthly social events and service opportunities for our Middle School Youth Group. These events are advertised a month in advance and are open to all middle schoolers and their friends of all faiths (the more, the merrier)!
Check out the schedules below for our upcoming Socials and service Opportunities "Missions of Mercy".  We hope to see you there!
We are heading to Hershey Park on Tuesday, June 19th.  We have two buses so bring friends.  Cost is $65 which includes transportation on a motor coach and admission to the park.  Get your flyer here ->  Hershey Park 2018 Flyer and permission
Who needs a water day?  Join us for Guppy Gulch on Monday, June 20th.   We have one motor coach that is looking for friends to enjoy the day climbing, jumping off and flying through the air looking for the big splash!  Cost is $50 for the day of fun.  Friends are always welcome!
Here is the flyer ->Guppy Gulch Flyer and Forms