High School Faith Formation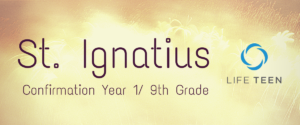 High School LifeTeen Program Overview
Thank you all for your feedback with our Faith Formation Survey.  Everyone's voices were heard and we are going to make this year a great and safe adventure for all our parish children and catechists. 
Beginning in January high school students will  attend class virtually.  This curriculum is very much about meeting high school youth in their daily life and supporting their spiritual development as they approach Confirmation in High School.  LifeTeen is a program that has been used in hundreds of parishes around the world.   Jess Temple and I are developing a dashboard that will be providing catechists, students and parents all the resources through our parish website.   Each lesson will be available and easy to follow along in the class or at home so that parents and catechists can support each young person to the best of our ability.
All Students will be expected to participate in the following events and activities:
Completed registrations forms submitted before the start of classes
Parents will attend all online orientations
Attend all class events in person or virtually
Participate as a family in weekly attendance at the Weekend Mass
Complete and return The Family Life textbook by January 1, 2021
Complete and return homework on time
Cost for Sacramental Prep:  $40 at the time of registration
 Class Gathering Format & Dates:
All classes and events will be either in-person or virtual.
None of the classes will be recorded per the guidance of the Archdiocese of Baltimore.
All class schedules and forms are listed on our parish website.
The Family Life Unit will be distributed to students in grades K – 5th in November for parents to teach and return by January 1st.
This year only, students preparing for Reconciliation and First Eucharist will only register for the Sacramental Prep class and NOT register for Faith Formation.
The class year will end in mid-May
Student Class Safety is of the utmost importance to us –
All class and events will be a hybrid of in-person or virtual.
All families will be asked to sign a Faith Formation Registration form, Zoom Participation Waiver, Covid and a Covid-19 Parent Acknowledgement and Agreement waiver, Waiver Assumption of Risks in order to participate. These forms are available on our website at https://e-stignatius.org/parish-forms/   Please download each form to fill out, save then return to  jtemple@e-stignatius.org
All classes will have two Virtus/Worthy of the Call certified volunteers at each gathering.
For In Person Study –
Students will be health screened before attending.
Masks will be worn at all times in the building.
Small groups will be limited to 12 students per group.