All Are Welcome
St. Ignatius of Loyola Catholic Community is for everyone.   We are created in the image and likeness of God and he calls all of us to Him.    Our community offer opportunities for Faith Formation for all of God's people.   There are opportunities for specialized classes, class inclusion and one on one catechesis for individuals with special needs to prepare for the Sacramental life in the Church.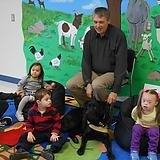 Sunday Mornings at 10 am – Early childhood special needs class so that parents are able to mass.  Class has a catechist and one on one classroom assistants.
Adult gatherings forming this fall.
We are also looking for volunteers who would like to volunteer their time working with Children, youth and adults with special needs.
Our mission is to meet families where they are and open a door to increased life in the parish for the entire family.     Please reach out to Carol Smith, Director of Faith Formation at 301-695-8845 x 210 or  csmith@e-stignatius.org