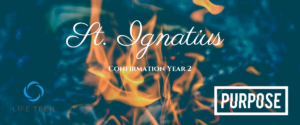 Confirmation Program Overview –  
This program is open to all baptized Catholic students in the 10th grade that have completed a year of formation in 9th grade either here at the parish or in a Catholic High School.  The Sacrament of Confirmation is the last of the three Sacraments of Initiation.  Candidates will learn about their call to discipleship through word and service to others.   We will walk with all students and sponsors in prayer, Mass and reflection of how the Holy Spirit has always been with them and calls them into a deeper relationship with God. A word of thanks to all parents.  Thank you parents for remaining faithful to the promises that were made  at your child's baptism.  Your faith and word to raise your child in the ways of faith in the Spirit  that was given to them at their Baptism has brought you to this day.  Thanks to all parents for your dedication to the faith life of your child.
Expectations For All Confirmation Candidates
All Candidates will be expected to participate in the following events and activities:
Class events in person or virtually

Weekend Mass

Service Project

One Day Retreat with their small group in person or virtually

To have a Sponsor Form and Baptismal Certificate by December 5th, 2020

Participate in four check in appointments with their small group leader

Choose a Saint and report due by end of May

Write a Letter of desire to be Confirmed to the Bishop by the end of May
All Students will be expected to participate in the following events and activities:
Completed registrations forms submitted before the start of classes
Parents will attend all online orientations
Attend all class events in person or virtually
Participate as a family in weekly attendance at the Weekend Mass
Complete and return The Family Life textbook by January 1, 2021
Complete and return homework on time
Cost for Sacramental Prep:  $80 at the time of registration
 Class Gathering Format & Dates:
All classes and events will be either in-person or virtual.
None of the classes will be recorded per the guidance of the Archdiocese of Baltimore.
All class schedules and forms are listed on our parish website.
The Family Life Unit will be distributed to students in grades K – 5th in November for parents to teach and return by January 1st.
This year only, students preparing for Reconciliation and First Eucharist will only register for the Sacramental Prep class and NOT register for Faith Formation.
The class year will end in mid-May
Student Class Safety is of the utmost importance to us –
All class and events will be a hybrid of in-person or virtual.
All families will be asked to sign a Faith Formation Registration form, Zoom Participation Waiver, Covid and a Covid-19 Parent Acknowledgement and Agreement waiver, Waiver Assumption of Risks in order to participate. These forms are available on our website at https://e-stignatius.org/parish-forms/   Please download each form to fill out, save then return to  jtemple@e-stignatius.org
All classes will have two Virtus/Worthy of the Call certified volunteers at each gathering.
For In Person Study –
Students will be health screened before attending.
Masks will be worn at all times in the building.
Small groups will be limited to 12 students per group.
"For I know well the plans I have in mind for you—oracle of the LORD—plans for your welfare and not for woe, so as to give you a future of hope."  -Jeremiah 29:11