Hello St. Ignatius of Loyola,
Our staff wanted to give an update as to where we stand with registration regarding fall classes for children, youth and adults.
At this time, we are not accepting registrations for the fall.   We will be having classes, but we are waiting to hear more from the Archdiocese of Baltimore and  Frederick County Schools.    Our class options will look very different than before.   We want to work with our parish families and not overwhelm them, so we will be delaying the start of the Faith Formation year until at least November.  If you have registered members of your family for a class, we will be in touch with you in the near future.
We will have virtual options, potentially in class options (depending on the grade and limited class size) and a family home school component.
In September, we will communicate to the entire parish by September 1st how everyone will be able to register for class, class options and schedules.   Information will be posted on our website, bulletin, email and social media.
Thank you for working with us as we all begin a blessed and creative new year in Faith Formation.
Peace in Christ,
Carol Smith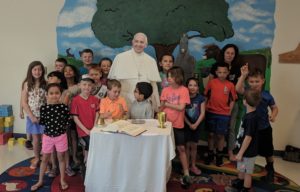 For any additional information, please feel free to email Carol Smith, our Pastoral Associate at csmith@e-stignatius.org 
"At the heart of catechesis we find, in essence, a Person, the Person of Jesus of Nazareth, the only Son from the Father…who suffered and died for us and who now, after rising, is living with us forever."  To catechize is "to reveal in the Person of Christ the whole of God's eternal design reaching fulfillment in the Person.  It is to seek to understand the meaning of Christ's actions and words and of signs worked by him.  Catechesis aims at putting "people…in communion … with Jesus Christ; only he can lead us to the love of the Father in the Spirit and and make us share in the life of the Holy Trinity."  CCC 426
Donate