Welcome to Faith Formation!
St. Ignatius of Loyola's Faith Formation programs have over 800 participants in programs each year.  We have programs for children, teens and adults.   Our programs are open to all people of all faith traditions.  There is something here in Faith Formation for everyone.    With the many class options, we are blessed to be able to offer students the ability to change classes mid-year as their family schedules change.  Incorporated into our year of Faith Formation are assemblies and social justice projects that bless the local Frederick County and the greater Archdiocese of Baltimore.  We do offer a home study program, but we ask for an appointment with our Pastoral Associate, Carol Smith.   Carol can be reached at 301-695-8845 x210 or by email at csmith@e-stignatius.org
Below you will find  class schedules for multiple program  and the registration forms.
Registration Form for next year 2020-2021 Faith Formation Registration
Class Schedules for 2020-2021 Faith Formation Year  will be posted in July 2020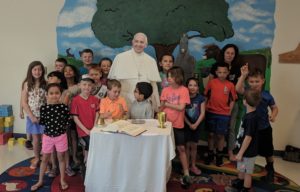 For any additional information, please feel free to email Carol Smith, our Pastoral Associate at csmith@e-stignatius.org 
"At the heart of catechesis we find, in essence, a Person, the Person of Jesus of Nazareth, the only Son from the Father…who suffered and died for us and who now, after rising, is living with us forever."  To catechize is "to reveal in the Person of Christ the whole of God's eternal design reaching fulfillment in the Person.  It is to seek to understand the meaning of Christ's actions and words and of signs worked by him.  Catechesis aims at putting "people…in communion … with Jesus Christ; only he can lead us to the love of the Father in the Spirit and and make us share in the life of the Holy Trinity."  CCC 426
Donate